Подробнее о лайнере: Sun Princess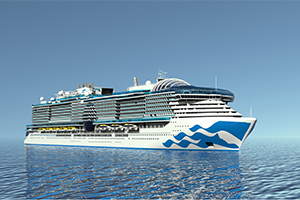 Категория
Год постройки: 2024 | Год реновации:
Водоизмещение: 175500 | Вместимость: 4300 | Персонал:
Длина: 345 | Ширина: | Скорость:
Кают: 2150 | Валюта на борту: USD $ | Язык: Inglés

Prices are in EUROS or US DOLARS as indicated in the pricing table. Prices are non-air CRUISE-ONLY , except indicated otherwise in the itinerary programme. Prices and availability shown are subject to change until the booking moment.
Prices do not include gratuities, they will be payed on boart: $13.50 per person and night in categories from interior to balcony, $14.50 per person and night in Mini Suite category and $15.50 per person and night in Suite category.
Before confirming your reservation in the online process, the Full Price of the cruise and additional services (if booked) will be shown. Payment calendar and penalties calendar in case on cancellation will be shown too, you will have to accept it to continue the reservation.Also, with the realization of the reservation, is accepted the that links the relationship between the passenger and the Cruise Company Princess Cruises.
Changes of names are allowed until 30 days before the sailing date except indicated otherwise in the promotional fare
Terrestrial services of the cruise company must be requested with a deadline of 20 days before the sailing date
The aereal services booked with the cruise company can only be included once the cruise has been confirmed, it does not allow changes of names and are non refundable in case of cancellation.
Taxes, Fees and Port Expenses
Taxes, Fees & Port Expenses, as used by us, may include any and all fees, charges, tolls and taxes imposed on us by governmental or quasi-governmental authorities, as well third party fees and charges arising from a vessel's presence in a harbor or port. Taxes, Fees & Port Expenses may include U.S. Customs fees, head taxes, Panama Canal tolls, dockage fees, wharfage fees, inspection fees, pilotage, air taxes, hotel or VAT taxes incurred as part of a land tour, immigration and naturalization fees, and Internal Revenue Service fees, as well as fees for navigation, berthing, stevedoring, baggage handling/storage and security services. It can also include NFC applied by some cruise companies. Taxes, Fees & Port Expenses may be assessed per passenger, per berth, per ton or per vessel. Assessments calculated on a per ton or per vessel basis will be spread over the number of passengers on the Ship. Taxes, Fees & Port Expenses are subject to change and we reserve the right to collect any increases in effect at the time of sailing even if the fare has already been paid in full.